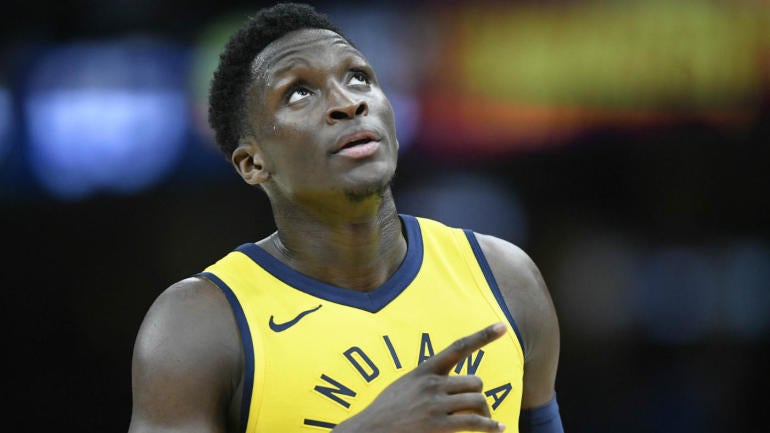 In the most surprising result of the 2018 NBA playoffs so far, the Indiana Pacers waltzed into Quicken Loans Arena on Sunday afternoon and beat the Cleveland Cavaliers by 18 points to take a 1-0 lead in their first-round series. Just as they've done all season long, the Pacers proved everyone wrong. 
Victor Oladipo, unsurprisingly, was the key catalyst behind Indiana's victory, as he poured in 32 points and finished with six rebounds, four assists and four steals. It was simply a continuation of what Oladipo had done in the regular season — that is, grow into a true star and the leader of a playoff team. 
Prior to the season, few outside of the Pacers organization expected that to happen. Cavaliers owner Dan Gilbert was among the doubters, saying the Pacers "could have done better" than getting Oladipo and Domantas Sabonis in exchange for Paul George. It's a quote he's going to regret, not only because he was wrong, but because Oladipo used it as fuel to punish his team in Game 1. 
Following the win, Oladipo said he wasn't bothered by Gilbert's comment, but did admit that it "added fuel to the fire." 
It's not that Gilbert was out of line or anything with his comment — plenty of people had their doubts about that trade at the time — but it is a reminder that sometimes what you say can come back to bite you. At this point, there's really nothing Gilbert can do but tip his cap to Oladipo. 
Original Article on CBSSports.com: https://www.cbssports.com/nba/news/nba-playoffs-after-win-over-cavs-pacers-victor-oladipo-says-dan-gilberts-comments-added-fuel-to-the-fire/