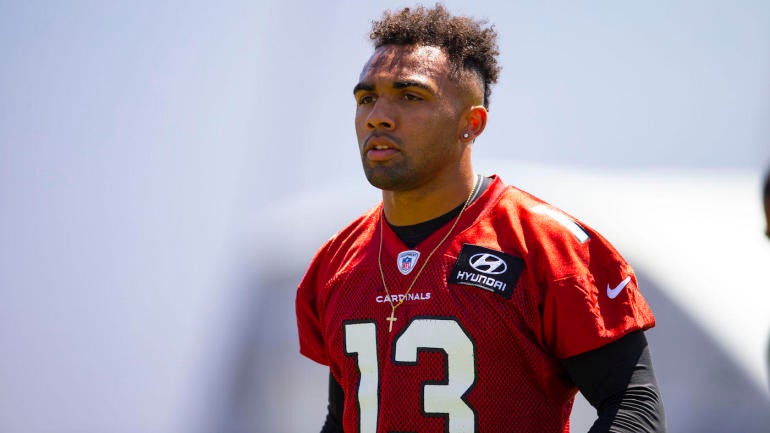 Almost three months before the 2018 NFL Draft, Christian Kirk was arrested and charged with damaging property and disorderly conduct-disruptive behavior. News of Kirk's arrest didn't break until after the Cardinals selected him in the second round, which called into question the team's decision to draft the former Texas A&M wideout. But on Wednesday, good news for Kirk and the Cardinals arrived.
According to the Cardinals' team website, the charges against Kirk were dismissed. City prosecutor Karen Close told WHAS11.com that Kirk paid restitution.
"From the beginning, I was confident that the facts and the truth would ultimately validate the type of person that I am," Kirk said in a statement. "I am grateful that was indeed the case. I appreciate all the support I have received while this process has played out, particularly from my family and friends as well as the Cardinals and this community."
From the original report:
From the beginning, the Cardinals maintained all along that they knew about the incident and felt like the situation would be resolved. 
"We knew about it," new coach Steve Wilks said earlier this month. "We did our own independent research on it, and we felt very good about the information that we received and that's why we moved forward in drafting him. As I stated before, we want to bring in great character guys, and I think Christian is one of those guys. I think the situation is going to resolve itself here in a couple of months. And with it still being an on-going legal issue, I'm not going to go into it any further than that."
Kirk, taken with the 47th-overall pick, is coming of a successful college career at Texas A&M where he racked up 2,856 receiving yards and 26 touchdown catches in three seasons. In Arizona, Kirk should be able to carve out an immediate role on a receiving crew that doesn't feature any notable names besides Larry Fitzgerald. He'll likely be competing with Brice Butler and J.J. Nelson on the depth chart.
Who he'll be catching passes from remains to be seen. Sam Bradford is slotted in as the starter, but first-round pick Josh Rosen has impressed his teammates and coaches during OTAs. Even if Rosen can't wrestle the starting job away from Bradford, he's the future in Arizona — along with Kirk considering Fitzgerald is 34 years old and has been contemplating retirement in recent offseasons.
Original Article on CBSSports.com: https://www.cbssports.com/nfl/news/cardinals-second-round-pick-christian-kirk-has-charges-dismissed-after-february-arrest/